In Issue 16, I share an update on my record buying habits and review some recent additions to the collection. If this is your first time visiting the newsletter, please consider signing up for a free email subscription.
---
When the world gets me down, I often turn to my stereo for solace. Needless to say, the lasers and needles have been getting quite the workout this season.
Since high school, I've been collecting records on vinyl and CD, and I like to keep an eye on the rapidly shifting landscape in the recorded music industry. What's new this tumultuous year? The trends are interesting. The RIAA has issued its mid year revenue stats for 2020. Overall revenues are up 5.6%. Streaming music revenue continues to dominate with 85% market share (and revenue growth of 12%). People are streaming more than ever. Digital download music, however, continues its downward trend (6% market share).
I'm most interested in the state of physical products, good old LP's and CD's—what impact has Covid19 had on them in the first half of the year?
My hobby is now a niche market. The physical product slice of the pie is shrinking, a paltry 7% market share. Revenue is down a staggering 23% for the first half of 2020, most of that due to the retail shutdowns in the second quarter. When you compare vinyl versus CD, though, we find a small consolation prize for vinyl: a net increase in sales of 4%. But CD's have slammed into the iceberg and the ship is sinking: a 48% drop!
Another headline takeaway: for the first time since the 1980's, vinyl revenues have outpaced CD revenues. This is a little deceiving because when you analyze units shipped (not dollar value), CD's are still on top, exceeding vinyl by 1.4 million units. A slight edge, but vinyl is making more money.
As overall sales of CD's continue to tank, I'm buying. Maybe it's because I'm a fan of the underdog. Or I'm foolhardy. Who can tell? I try not to overanalyze it, because it's a past time. I enjoy it. Why throw shade on myself? When vinyl was out, I was in. Now that CD's are in decline, I'm gathering them up. Weird, I know. If I was a stock investor, maybe I'd be a millionaire. Instead, I have a basement filled with old records.
As for the vinyl collection, I'm pretty well satisfied with it. In fact, I'm modestly downsizing, selling off and free-cycling records I don't need anymore. If, to echo Marie Kondo, it no longer sparks joy, it likely goes to the out bin. There are only a few gaps in the vinyl space to fill, and because the used bins are picked over thanks to vinyl's resurgent popularity, new discoveries are infrequent. I've lost interest in new vinyl releases, because frankly, the quality of pressings is unreliable. I've been priced out of the market, too. New vinyl is bigger than my wallet.
So I've hopped on the CD train. They've gotten cheaper than LP's (who would ever have predicted that 20 years ago!). They are undoubtedly easier to maintain, and they can sound good, when mastered properly. They can sound sucky too—harsh, brittle and bright, or brick wall mastered to ear fatiguing levels. They may lack the "warmth" of vinyl, but on a decent stereo kit, CD's can sound clear, well-rounded, and well-defined across a wide frequency range. With my hearing loss, this is something I value more than I did 20 years ago. Sure, they lack the sexy presence of a vinyl cover and inner sleeve, but at least they're something tangible. The labels and packaging can be colorful and artistic. For instance, I recently gave Radiohead's Kid A a listen, and the CD fold out is…something. I'm not sure what they were going for, but it's thought provoking. An artifact is still an artifact.
My personal buying patterns have changed drastically since Covid hit. I don't go to record stores. I don't frequent the charity shops. I'm more frugal and buying less. When I do purchase something, I look for sales online, usually eBay.com, sometimes a direct order from one of the big online retailers like importcds.com, deepdiscounts.com, ccmusic.com, or oldies.com. I shy away from Amazon because you don't always know exactly what version you are getting, especially in the used marketplace. Product descriptions can be sketchy and inaccurate.
Why not just stream?
I do stream, too. We have an affordable $15 / month family subscription to Spotify that brings a world of music into the smart phone. Many times, the Spotify version of an album is plenty good enough. I love Spotify as a discovery tool and for its convenience. Why, one may ask, would you even bother purchasing a CD or record? It's complicated, but I have reasons.
Sometimes the Spotify version doesn't sound as good. Even their hi-def streams are compressed. Do I always notice a significant difference? No. Sometimes, I do, though.

Streaming isn't always dependable. Wifi service can get interrupted. I usually listen to Spotify through the stereo via a Google Chromecast Audio device (it looks like a small hockey puck). When it works, it's great, but sometimes it fails. That's usually when I curse the ceiling and say, fuck it all, pop in a CD and press play.

Not every album in the universe (or my collection) is on Spotify. Sometimes the omissions are glaring, and I'm thankful I still have the CD (or LP or 45).

Sometimes I want the packaging (cover, booklet, inner sleeve, liner notes). These tangibles add value to the listening experience. True, I can scrub the internet for lyrics and info about the recording when listening online, but that starts to feel more like a research project than a leisure experience.
To illustrate what I'm talking about, let's look at a couple of recent acquisitions.
Richard & Linda Thompson. Hard Luck Stories 1972-1982.
1972-1982. It spans my eighth to eighteenth years in life. Not once in that age range had I heard of Richard & Linda Thompson. I didn't really notice them until the early 90's. A lot of people have never heard of them, and that is a cultural crime. Richard and Linda are unsung heroes of British folk rock. Richard is one of earth's great guitar players, and a mighty songwriter. Linda has a pure voice full of beauty and pain, and along with Sandy Denny (and more recently Kate Rusby), she sits atop the heap of female British folk vocalists. Pretty much every one of their albums was a flop, though. After their swan song album Shoot Out the Lights and an acrimonious divorce, Richard Thompson launched into a successful and prolific solo career. Linda's solo output has been more modest, and she remains in relative obscurity, due to chronic dysphonia. It's hard to record and tour when you literally can't sing.
Stacy and I became huge fans in the 90's, and we collected some of their albums on vinyl, and all of their CD's, a couple of them now out of print.
When earlier in the summer I learned that an 8 CD box set was coming—their six studio albums remastered, plus unreleased tracks, demos, and live takes—I had a decision to make. You have most of this material already, should you spring for it? The set was produced by Andrew Batt, the same guy who did the Bobbie Gentry box set, The Girl From Chickasaw County (mentioned in a previous issue), which I liked a lot. I figured Andrew would do justice to the Richard and Linda material. All the same, I took a wait and see attitude.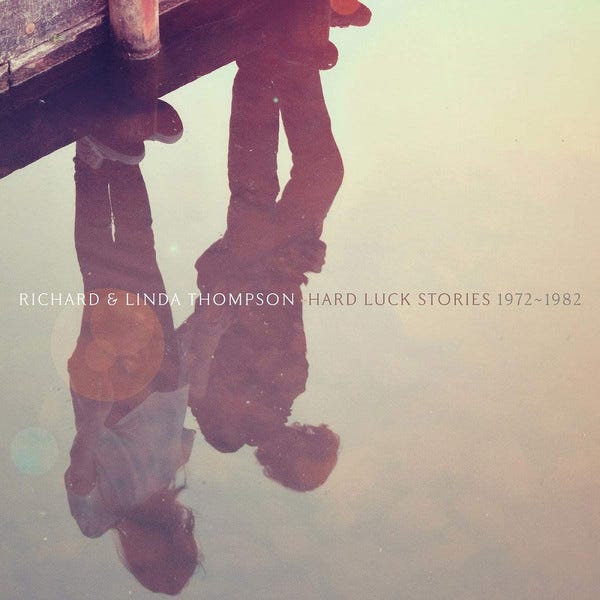 A week before the official release date, I noticed a pre-order deal at importcds.com that I could not pass up: a 30% discount. I pulled the trigger.
While waiting for shipment, I started reading feedback from customers on the Steve Hoffman forums. What I found there was concerning: hard luck stories of CD's that wouldn't rip. Warped CD's. Smudged and scuffed CD's. CD's that choked and hiccuped in the player. With the anecdotal evidence piling up, second thoughts swam freestyle in my befuddled brain. Should I cancel the order? Like a brooding Danish prince, I hesitated. I thought, maybe my luck will be better, but fears of getting hosed were high.
The box set arrived. First impressions were great. The packaging is lovely. It's the same format as the Bobbie Gentry box: a hardcover book of essays, liner notes and brilliant full color photos, plus two folios with slits for the CD's, four per folio. I would have preferred mini LP sleeves over the slits. The CD's appeared to be fine. No obvious scratches or smudges. The essays and liner notes are informative, fun, and revealing, with loads of details I had not known about before.
Over the next four days, we listened to it. It was like aural Russian Roulette. When is the player going to crap out? Andrew Batt's mastering is, as anticipated, excellent, and though I haven't yet compared it to the older CD pressings, I'm confident the box set will surpass them. The bonus tracks are rewarding and fill in some missing pieces of their career, such as what were they up to between the Pour Down Like Silver and First Light Albums, while they were living in a Sufi community in the UK. On our Oppo dv970-HD player, the discs played through without incident, except for disc 4, which choked in the last minute of the final cut, a mesmerizing live version of "Calvary Cross." It was disappointing, but it could have been much worse. Based on the negative accounts reported at the Steve Hoffman forum, I didn't even bother trying to rip tracks into the computer. Besides, I hardly rip CD's anymore. I've become a "pop it in the disc player, sit back and listen" type. Managing digital downloads and rips is a time-suck.
While we were listening to the rest of the discs in the box set, Universal Music (to their credit) acknowledged the existence of defects in the CD's and promised to make good on it by offering free downloads and later, replacement discs. I emailed the company for a remedy, and after a four day wait, was granted the key to downloads for all tracks and a confirmation that some day my CD's would come. Call it a happy ending to a hard luck story.
I checked Spotify and YoutubeMusic to see how much of their catalog is available online. Out of their six studio releases, three are streamable, plus a live in concert album, and a best of compilation. The box set is nowhere to be streamed. I understand it's already sold out, and there's no word on whether it's going to be re-pressed. In hindsight, I'm glad I got it when I did.
Procol's Ninth. Revisiting an album I never paid enough attention to.
Procol Harum. The band's name is corrupted Latin that roughly translates as "beyond these things." Maybe a more idiomatic and fitting translation would be "far out." Procol Harum is in my pantheon of favorite rock bands. Their claim to fame is the 60's prog-psychedelic smash "Whiter Shade of Pale," but there is so much goodness beyond that one good thing. I won't spend too much verbiage extolling their worth at the moment. Perhaps another time, another newsletter. They are the kind of artist where I need the complete catalog. I have a full run of their studio albums on vinyl and CD, some in different editions. In the CD realm, their catalog has been through at least three turns of reissues, and it's a bit of a slog figuring out whether it's worthwhile to acquire a new version.
Last month, I decided to spring for the 2018 Esoteric records release of Procol's Ninth, which is actually their 8th studio album. I didn't have this one on CD before. It's a remaster with bonus tracks, and it comes with two extra discs, one a live show from New Jersey (they opened for Fleetwood Mac), and the other a London gig. A good package for the money. You can sample the album tracks at youtube.com:
Procol's Ninth followed one of my personal favorite (and critically underappreciated) Procol Harum albums, Exotic Birds and Fruit. Ninth was not very successful for them. The band's career was running out of road, and after the next outing, Something Magic, we wouldn't hear from them again until the late 1980's. On Procol's Ninth, the band replaced Chris Thomas as producer with the legendary songwriting duo of Leiber and Stoller, who were producing some other successful artists at the time. It would be the final incarnation of the mid 1970's band lineup: Gary Brooker, Keith Reid, Alan Cartwright, Mick Grabham, B.J. Wilson, and Chris Copping.
The cover art indicated a change in attitude. It's a conventional 1970's publicity photo, without much artistic flair like you find on their other album covers. What became of the ghostly whiter shade of pale girl? The sparkly manikin at the upright piano? The salty dog sailor? The men in top hats before the Grand Hotel? You sense that the brand identity was in a midlife crisis.
Over the years I haven't given this album the attention it deserves. It's very much a solid effort, and a worthy sequel to Exotic Birds and Fruit. The musicianship and arrangements are fine. Gary Brooker is, as usual, in fine voice. The production is tight and slick, but not too slick. The two cover songs, a Leiber/Stoller tune "I Keep Forgetting" and The Beatles' "Eight Days a Week," are improbable, but fun. I've got no issues with their inclusion. The live discs are enjoyable snapshots of where the band was at the time of the album's release. I prefer the UK show to the USA show. They seem better connected to the London audience, and the setlist is stronger. The CD booklet is rich in detail with more liner notes that one usually gets, and many good quotes from surviving band members.
Finding balance
Music is one of the simple pleasures in life. The records and CD's on the shelves surrounding me are a testament to a lifetime of listening enjoyment. I don't want to get too shmaltzy about it, but these products can feel like companions: childhood friends and buddies from later years. They all get along. The shelves are cozy and harmonious, the albums waiting patiently for me to give them another hearing. When I play one, I travel in time. I connect present tense me to the older pressings of myself. Who was I when I first came across this song? How does it feel to be re-experiencing it? In some cases, I prefer the remastered Jim. Other times, it's a comfort to revive the vintage original release, despite the dust and crackles and varnish of intervening years, like the veined wrinkles in an old man's face when he squints. With music, I can go places without ever leaving the sofa. My spirit interfaces with disembodied spirits in the sweet spot between the left and right speakers. Entering the sound stage, I reconnect with things deep and meaningful. Here, I can find balance.
Whether you find your way into that space in a streaming way or via polycarbonate plastic disc and laser light, or a needle at the end of a tonearm tracing the vinyl groove—it makes little difference in the end. There is more than one path to enlightenment.
Dimming of the Day
I'll close with a favorite track from Richard and Linda Thompson's album Pour Down Like Silver, "Dimming of the Day." I've long thought of it as a deep love song. In the box set liner notes, I learned that Richard wrote it as a prayer about his devotion to God (this was written during their Sufi mystic period). It works on that level, for sure. In a strange and tangential way, the lyric also expresses an attitude about the power and sway that great music (and all art, frankly) can hold for me. When the house is falling, and the country collapsing, the bridges burning, you feel the pull back to the people and things and moments that matter.
This old house is falling down around my ears
I'm drowning in a river of my tears
When all my will is gone you hold me sway
And I need you at the dimming of the day

You pulled me like the moon pulls on the tide
You know just where I keep my better side

What days have come to keep us far apart
A broken promise or a broken heart
Now all the bonny birds have wheeled away
And I need you at the dimming of the day

Come the night you're only what I want
Come the night you could be my confidant

I see you on the street and in company
Why don't you come and ease your mind with me
I'm living for the night we steal away
I need you at the dimming of the day
Yes, I need you at the dimming of the day
---
What are your own "go to" musical touchstones? Am I crazy to be collecting records still? Wherefore the CD love? WTF? Leave a comment or send me an email.
Please feel free to share this post with your friends and followers. I depend on word of mouth to spread the gospel according to eschorama. ;-)
Until the sun rises on a new issue of eschorama newsletter, be well (and don't forget to vote!).